Up till now I've been quite happy with my lot, tootling along on Class 2 with no great ambition to change to Class 1. However I was recently asked if I'd like to do C+E training at the companies expense, in return for some holiday cover on the lowloader.
Now that's not an offer that you refuse, OK so it's not going to put any extra cash in my pocket but it's experience and another skill and that's just like money in the bank. There is also the possibility of a bit of additional overtime in the form of weekend work if required.
Monday 18th February 2008
I'm booked on a course at DTT in Colchester, it's an 0830 start so I'm off from home at 0730 creeping through the fog and the traffic. I'm there at 0815 and there's a bit of hanging around drinking tea before getting introduced to my instructor. As soon as I saw him I knew he was an ex-copper, dunno what it was but I was bang on the money. Ex police driving instructor in motorcycles, cars, minibuses, trucks and buses, even tracked vehicles, DSA, ADI and just about everything else. It would seem like he should know what's what.
After a bit of form filling, a discussion about my driving history and a quick run through of the course we're outside having a walkaround the motor.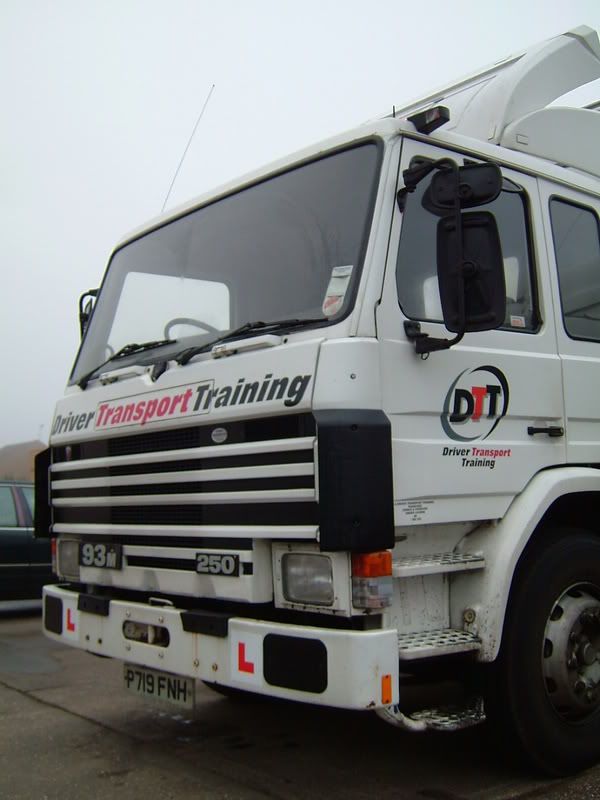 OK so it's not the flashest motor, P reg 93M Scania 250 plated at 28t but it's tidy enough and simple. Gears are simple just the 4 over 4 arrangement, although having got used to Scania's quirky 3 over 3 in my 420 rigid it always takes a while to adjust. I get the passenger seat to start with as we make our way out to the A120 and onto the A12 towards Ipswich and the A14. I'm trying to watch and listen but I really can't pick up anything much of great use whilst we are on dual carriageways. We pull into a layby just before the Orwell Bridge and swap over, with a fresh from Class 2 test trainee he will take them to an airfield first but he's confident that I'll be OK for the next session. After a couple of miles along the A14 we exit the dual carriageway and wander around an easy route with a few roundabouts before getting back onto the A14 and pulling into the Orwell truckstop.
After a quick cuppa (in which I was honestly surprised by the almost restaurant like environment) we are off to the far end of the parking bays and setting out the cones for the reverse. One quick demo from the instructor and it's my turn next, I'm not half as bad as I thought I might be although I'm still far from brilliant. My rigid driving instincts keep trying to take over, not so much the incorrect steering but the trailer we're using is a 40 footer with a short overhang as opposed to the 14' on the back of my 6 wheeler. This means that I'm not sneaking the wheels around the cone so much as straight past, it's not a massive problem as I'm getting in the bay consistantly after a single shunt forward.
I'm aware of what I'm doing wrong, just not quite sure how to overcome doing it in the first place so the unstructor jumps in and starts another demo run, once he's got the outfit through the first turn he calmly climbs out whilst it's crawling back and casually walks alongside steering it perfectly from outside whilst talikng me through it. One last go before dinner and I'm the box more or less square with shunting or crossing the line. I'm happy enough with that for now.
After lunch we pack the cones away and spend some time wandering around the outskirts of Ipswich negioating roundabouts and traffic lights aplenty. Being only a 250hp it's a bit of a plodder but really that's no bad thing as it can't be rushed and I'm unlikely to be using too much inappropriate speed (although I may be proved wrong here in time) We drive around for a while before heading back through Manningtree and back to Colchester about 1630.
Overall I'm pleased with how things have gone, I'm happy with how the trailer follows 90% of the time I just need to work on the other 10%. I'm not giving parked cars enough space either but I knew myself as I passed some on several occasions that I should have been further away. The instructor is more than happy with my progress and I'm looking forward to tomorrow a lot more than I did for today.
Tuesday.
Starting today at 0800 & I'm there early at 0745 waiting for everyone else to arrive, after the customary brew up and vehicle checks I'm straight in the hot seat and with head out to the A120 to fill up with fuel. Yesterday we called twice at the Texaco and both times they were dry, this morning they've got fuel and the trucks are queing right back along the sliproad.
Once fueled it's along the A12 and straight into Ipswich for some slightly more taxing routes through the town centre with narrow streets and roundabouts. We wander out further taking some winding roads and tight turns including a junction where I had to almost double back on myself, easy in the artic but I'd have struggled to get the 6 wheeler round.
Today I'm managing to hustle the old beast along a bit quicker, overcoming the really strong spring on the accelerator and the sluggish old 250 engine. It's starting to come together well, I'm giving parked cars more room, taking wider routes through junctions and keeping the spped up.
After a cuppa at the Orwell Truckstop we wander back down the A137 through Manningtree to olchester and cut through a large residential area with speed bumps and the odd chicane before arriving back at the yard.
I'm pleased with today and the instructor is equally happy, it's only 1200 as he's got a funeral to go to but he reckons he'd normally leave the central Ipswich another day but was happy to take me round as I was clearly used to handling a large vehicle. OK so I know that I can do it, but I'll take praise like that any day.
Wednesday.
Away at 0700 for an 0800 start in Colchester, it's 0830 or so by the time we're warmed up, checked and ready. The training school base is on a little industrial area and it's abosolute carnage with cars and vans all over the place. The instructor gets the wagon out, my car goes in it's space and we're off. Straight up the A12 this morning, into Ipswich for some more awkward town centre stuff, there's a fair amount of nasty junctions where you have to crawl around them at a snails pace and I make a fair job of ballsing them up, nothing major but just not getting them quite right. We stay with it until about 1030 when we stop at the Orwell truckstop for a bit of reversing practice, and have a crack at the un / coupling. This seems straightforward and goes OK and we make our way back into the town and slog our way round. I still keep making the same mistakes, principally turning too early and not slowing enough and it starts to stress me, this leads to some incorrect gear selections and the occasional missed signal on the exit from a roundabout.
By 1230 or so when we pull back to the Orwell, I'm pretty fed up with it, more so after making an arse of getting it anywhere near a bay. Sarnies, tea and fresh air work wonders however and by the time we restart I'm more focussed and ready to give it another crack. We do the un / couple exercise again, this time I do it with prompting and I've got that bit sorted. This gives me a lift and we head back to Ipswich for another round, thankfully by now I'm making better progress and the only hiccup is when I forget to box the range changer to low before attempting a hill start. It's a good one to make me remember in future (hopefully) and we make our way back through Manningtree to Colchester.
As we run through my progress, my instructor asks me how I felt it had gone and I largely detailed what he had written in his notes, he's happy enough though as I'm identifying my failings and working towards fixing them. I'm done about 1600 and head for home thoroughly knackered.
Thursday.
Same time, same place only this morning my mood is not so bright. Left home on a bad note and yesterday's mistakes are weighing on my mind. We've got another trainee today, he failed last week and is in for test tomorrow so I let him take the first stint and I take the opportunity to watch his progress. This helps a lot, he's making similar mistakes and just generally seems not so confidant and slightly in awe of it's size. He's actually an ADI on cars and it would seem that he has little or no rigid experience, he's not bad by any means but not completely at ease behind the wheel of something so large. After slogging round Ipswich until about 1030 we stop for a break at the Orwell truckstop and stop and have a chat with the trainee on the rigid. It's his first day, he's being funded by his company and he's going to piss the test. Or at least he thinks he is, whereas I suspect he may be in for a shock.
I'm really ready to go when it's my turn and things go well, nice smooth driving on the open and controlled approaches to difficult junctions, mirrors and observation are on the money and even the odd hiccup gets shrugged off and put behind me. We spend a couple of hours out there, manage to sneak into the test centre for a looksie at how to get in and out of the gate (not the easiest of places) and return to the Orwell about 1300, I even manage to get it into a parking bay without too much fuss. I'm really pleased with todays effort, the instructor too and the other trainee remarks about how at ease I am.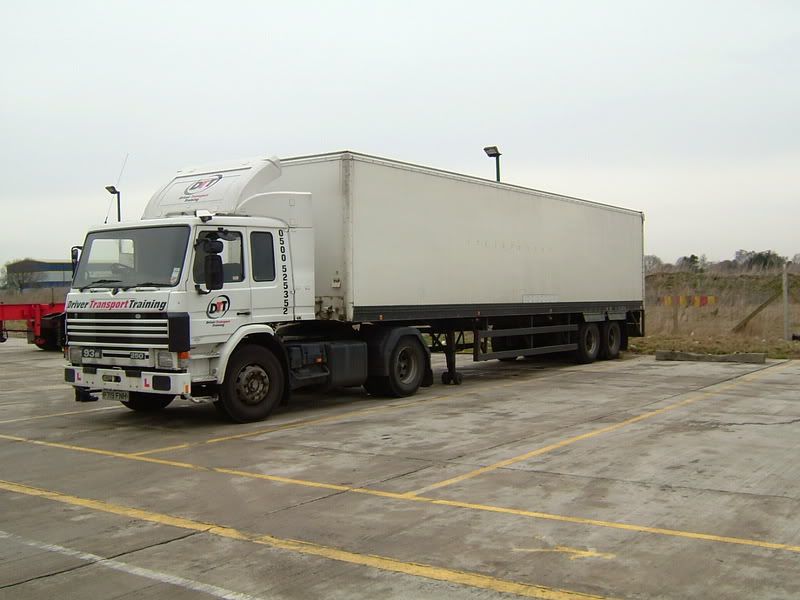 After lunch I decline the offer to do a un / couple exercise and watch the other guy instead before taking the back seat once again, for his second stint at the wheel. He's much smoother now, gaining confidence with the vehicle and he said that watching me had helped him with selecting the right gear for different situations. Now I'm not suggesting that he was watching an expert, far from it but it just illustrates the fact that 2:1 training can be just as beneficial as 1:1
We swap over again and I take us back to Colchester via Manningtree for a 1600 finish.
Friday.
This morning I'm not quite so keen to leave my warm bed although I'm confident about my test, I'm not looking forward to it. Down at Colchester I grab a quick cuppa and get the unit checked and running ready for a quick off when the other trainee arrives. I'm first in the seat this morning and we head directly for the Orwell Truckstop and set out the reversing exercise with the cones. I take the first go and get a reasonable attempt, the other guy does it much better on his first. Another go each and we've both got it sussed. We run through the braking exercise briefly and then park up and go in for a cuppa.
The trainee on the rigid is there, today he seems to have landed firmly with a thud saying how hard it is and how exhausting he found it. Apparently his instructor had a bit of a hard time with him and threatened to throw him off the course.
It's now a bit of a waiting game, just over an hour to go and we're within spiting distance of the test centre so we go out again through the town with the other guy at the wheel before rolling into the test station at 1200. There's a rigid just starting test, and I'm booked next at 1215.
My examiner comes out and introduces himself, and we walk out to the vehicle to start the reversing exercise. I take it slow and steady and get it squarely in the bay and stop just short so I can get out and have a look, I'm about 2' short so I return and just take it back the extra. The instructor joins me and we then complete the braking exercise before leaving the centre. The drive round was generally good, the downhill and uphill starts soon despatched and with the gearchange exercise a thing of the past it was a trundle around the town centre. I managed to pick up a minor when the range change wasn't quite as quick as I was and another on a roundabout as I squidged the trailer tyres against the kerb. There was also two more for awareness (not following through) and another for pulling up too close to a vehicle.
My examiner was a freindly chap, was happy to engage in conversation and this certainly removed the tense atmosphere of when I took my class 2 test.
We're soon back at the test centre and after a quick un /couple the examiner gives me the magic words "Well Graham, I'm pleased to tell you......." With 5 minors on a 1st time pass, I'm more than happy with the result.
Unfortunately the other trainee was not so lucky, somehow he managed to completely screw up on his reverse and knocked over the 1st cone, however in fairness to him he still went out and completed the rest of the test bar the un/coupling and didi it with only 7 minors. My instructor was disappointed as he told me he was counting on 2 passes. I was gutted for the other guy too, as he was certainly able to do it and considering he'd no rigid experience he drove very well.
Idle chatter was fairly non existant on the drive back to Colchester, but I'm sure he'll come back and crack it soon. I part company with DTT at 1600 and head back to Danbury to pass the news to my boss who is quite happy with the result.